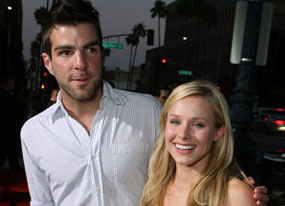 The latest word is that Kristen Bell, star of the cancelled UPN/CW series "Veronica Mars" will be joining the cast of the NBC/Sci-Fi Channel series "Heroes."
E! Online also reports that the blonde from Motown will be singing with her new rock band as well. I hope it is something better than the pancreas shriveling number she did on an awards ceremony a while ago.
Entertainment Weekly mentioned that Bell was originally offered a role on the ABC series "Lost" but chose Heroes because she didn't want to move to Hawaii and she is a bit of a geek at heart.
Geek on the inside... hottie on the outside... what more can you ask for?