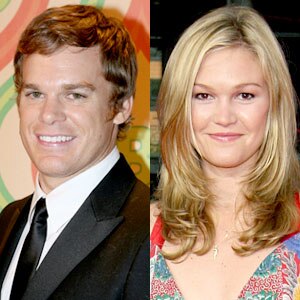 Greetings Mister and Missus America and all ships at sea...
Dit... Dit... Dit... Dit... Dit... Dit... Dit... Dit... Dit... Dit... Dit...
This just in...
Dit... Dit... Dit... Okay, I'll stop!
According to
The Hollywood Reporter's Live Feed
, Julia Stiles... the girl who can kick it in the ghetto and at Edwardian learning institutions while supporting Bourne's ultimatums... will be joining the cast of Dexter for the 5
th
season. Her character will be...
"...a mysterious young woman who forms a unique relationship with Dexter (Michael C. Hall) in the wake of the death of his wife.
Further information from
TV Squad
confirms that Stiles will appear in ten of the season's episodes... and that Julie Benz (who is reported to be currently in Nice, France) will also return to the show (ostensibly as a ghost perhaps?) in the season premiere.
Check out what the pundits have to say about Dexter's new blondie at
E! Online
. And check out some of the cool Dexter merch below:
Finally... a fan's idea of a new opening for the series... below: